Seattle and its nearby suburb, Bellevue, are ideal places to celebrate the holiday season. Beautiful decorations, tried-and-true traditions, and ample culture make spirits high and cheeks rosy. Here are our top 12 ways to enjoy the holiday season in these beautiful Washington cities.
Seattle Center Winterfest
Throughout December, head to the
Seattle Center
to participate in a range of seasonal activities at
Winterfest
. For the last 40 years, Winterfest has displayed a miniature 19-century train and model village. Installed at the Armory Food & Event Hall, the train also marks the first stop on the winter Scavenger Hunt. Grab an entry sheet at the Train Station and check everything off the list to win a prize.

Winterfest also features Saturday afternoon ice sculpting with master carvers Chan Kitburi and Janson Iwakami. Stop by to see their incredible creations! In the mood for a show? Winterfest also features a range of performances on the Armory stage, including songs from The Jewel Tones, dances from Bailadores de Bronce, and the children's Northwest Tap Competition. Seattle Center Winterfest is where seasonal family fun lives all month long!
The Nutcracker
If you love the tale of Clara and her Nutcracker, don't miss Seattle's rendition at
McCraw Hall
. There is no better way to experience this classic winter story, whether in-person or virtual. Enjoy the artful backdrops, detailed costumes, and stunning talent at this annual celebration of the holiday season.
Snowflake Lane, Bellevue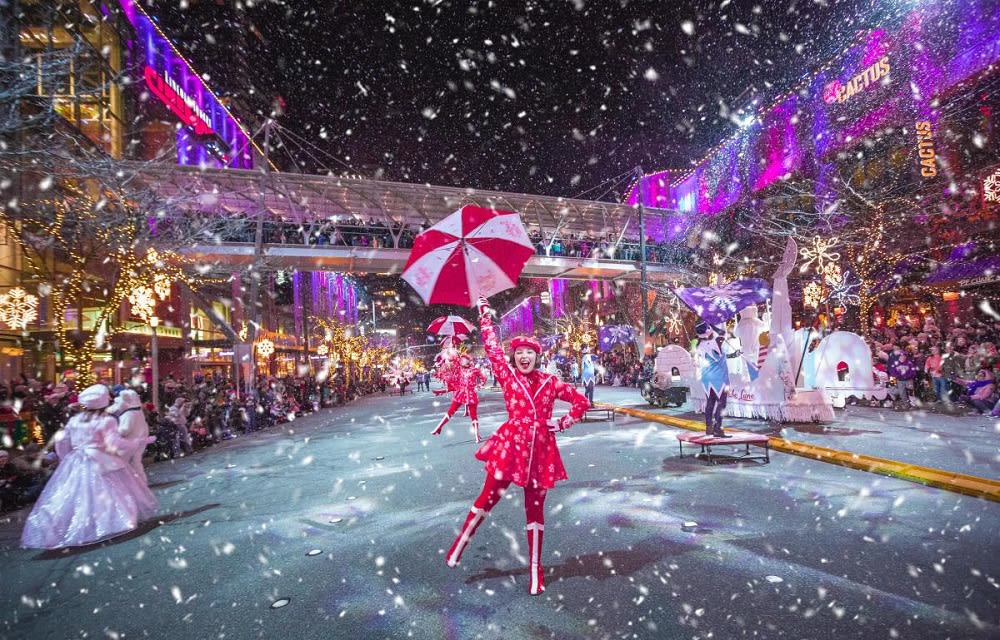 The Bellevue Collection hosts a seasonal performance each night of December called
Snowflake Lane
. Along the sidewalks of Bellevue Way, sparkling lights line paths for drummers, dancers, and live bands. Snow falls in tandem with the light show while holiday characters wave hello. This 20-minute spectacle takes place each evening at 7:00, and it's a can't-miss event for the entire family!
Garden d'Lights Festival, Bellevue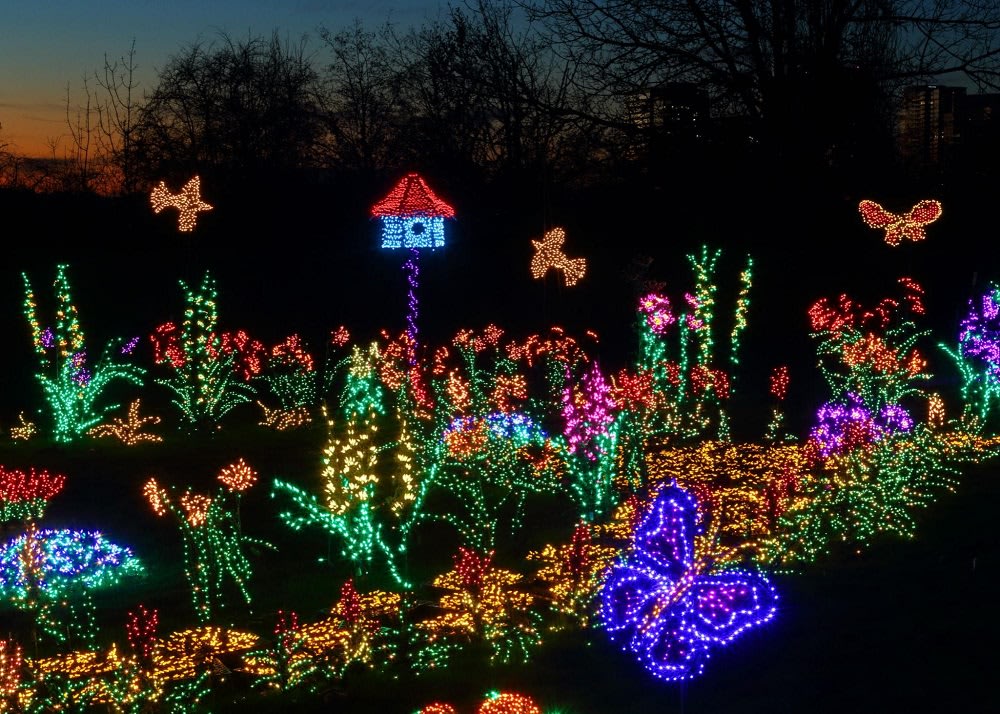 Photo courtesy of the Bellevue Downtown Association
The
Bellevue Botanical Gardens
transform during the holiday season, creating one of the most spectacular holiday light displays around. From 4:30 to 9:00 p.m. throughout December, head to the gardens to enjoy 500,000 twinkling lights in a variety of colors and patterns. Giant spider webs made of lights, decorated pergolas, and fields of brightly lit tulips create a magical landscape that's sure to put you in the holiday spirit.
New Years Eve at FogRose Atelier, Bellevue
Are you looking for an elevated way to ring in the new year? The
FogRose Atelier
is prepared to wine and dine you with seven courses of incredible food. Starting at $150 per person, this dining experience includes oyster shooters, rich goat cheese gnocchi, tender beef filet, and, of course, ample champagne. FogRose is one of Bellevue's most impressive restaurants, and their New Year's Eve celebration certainly sets the tone for the upcoming year.
Christmas Ship Festival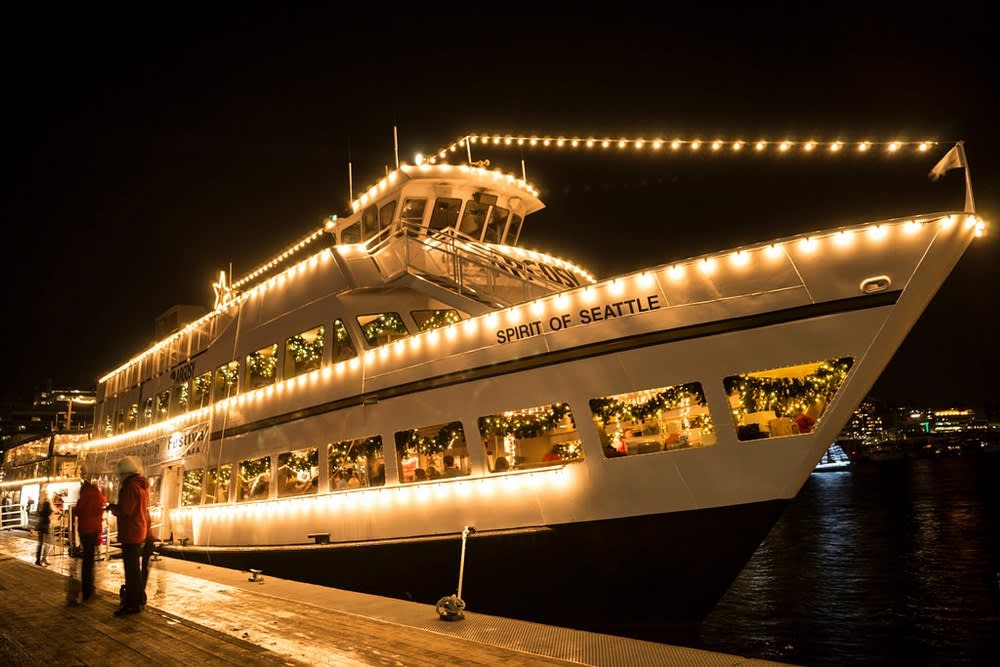 Photo courtesy of Rove.me
Since 1949, the
Spirit of Seattle
("The Christmas Ship") has marked the start of the holiday season with its robust lights and decorations. Throughout December, enjoy the festival in various ways: Hop aboard the ship and visit Santa Claus, listen to the beautiful songs of carolers, and enjoy light bites and refreshments. You may also opt to board a "Follow Boat," which allows you to enjoy the ship from afar. Sip signature cocktails and tune into a broadcast choir performance. The Puget Sound provides the perfect backdrop for this festive event.
Welcome Home: A Holiday Concert
Seattle's Village Theater is back with this "
festive night of music
," which includes performances of classic holiday songs. Outstanding musical talents will perform everything from "This Christmas" to "Santa Baby" alongside a four-piece band. The concert occurs in Issaquah through December 26, so get your tickets in advance to support the local theater.
WildLanterns Lights Festival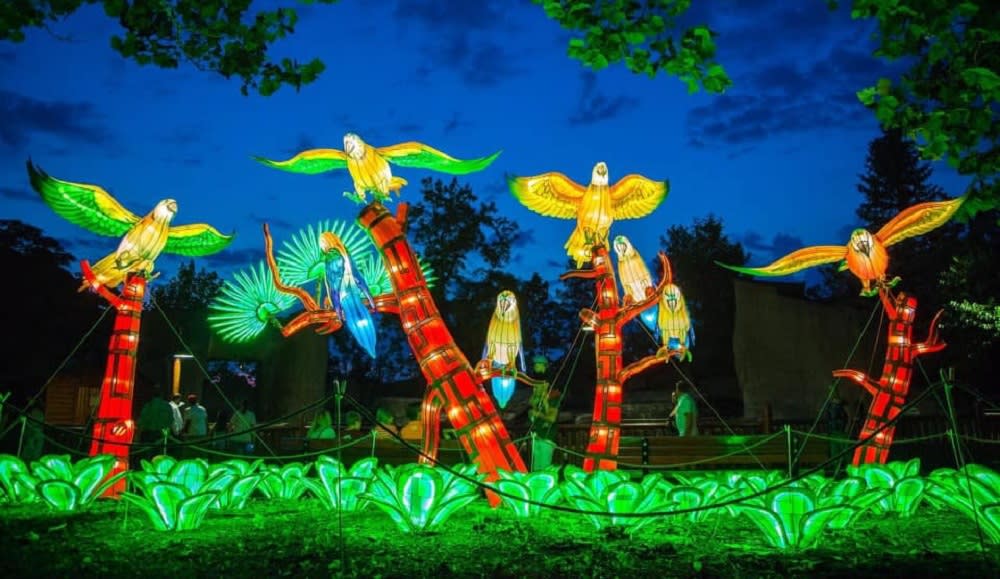 WildLanterns Lights Festival
at Woodland Park Zoo is ready to bring the sparkle through the new year. Constructed from lanterns and strings of light, entire animal structures line the zoo's pathways, many of which are interactive. Walk underneath the giant Komodo Dragon or hide inside a shark's enormous mouth — kids and adults alike enjoy this version of the zoo in all its holiday glory.
Bellevue Ice Skating
The
Bellevue Downtown Ice Rink
comes alive through the beginning of January and is a beautiful place to spin, glide and make memories. All skill levels are welcome at this large indoor arena, which offers skate rentals and is open into the evening. Grab your friends and family, take a few spins on the ice and then settle in for some hot cocoa — it's the perfect winter activity!
Holiday Afternoon Tea at the Olympic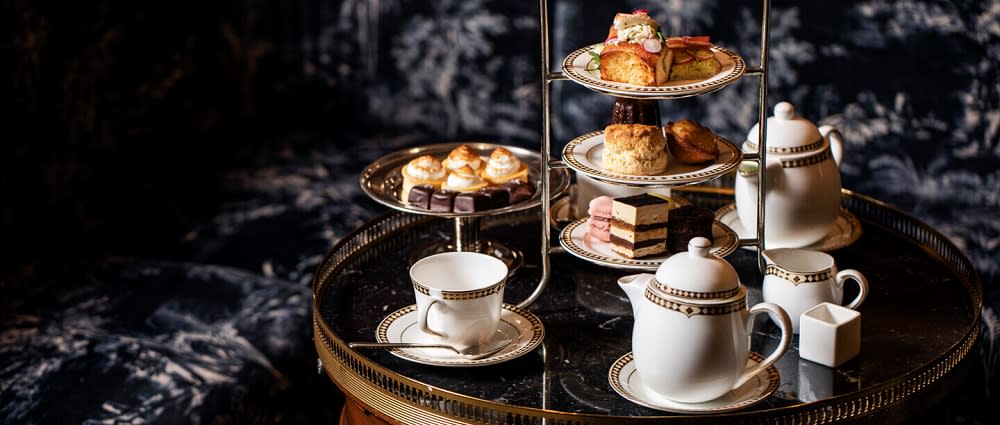 In 2021, the ultra-elegant Olympic Hotel hosted a
Holiday Afternoon Tea
in the historic Spanish Foyer for the first time. From 12:00 to 4:00 p.m. through the holiday weekend, guests enjoyed a delectable assortment of loose-leaf teas, finger sandwiches, scones, and decadent sweets. Promising another royal treatment for 2022, the Olympic's rich china, gold accents, and stunning decor make this the ideal place to enjoy a cozy and elegant afternoon tea over the holiday season.
Fleurs de Villes NÖEL
This wonderful holiday tradition occurs at
Pacific Place
and spotlights unique floral pop-ups. The area's foremost florists gather to build and create beautiful, larger-than-life arrangements in various forms. Wander around and observe signature floral mannequins, floral installations, and floral workshops. The designs are so realistic, you'll wish you could wear a gown made of roses!
Issaquah Artisan Market
In need of some original gifts for friends and family? The
Issaquah Artisan Market
may not be directly in Seattle or Bellevue, but it's certainly worth the trip. This market features handmade goods, crafts, jewelry, accessories, and clothing from a range of talented local artisans. Sip on some cocoa or enjoy global cuisine from any of the many diverse food stalls. Every purchase from the market supports the local artisan community and is a great way to give back this holiday season.
Are you looking for an agent who knows Seattle and its suburbs like the back of their hand?
Tim C. Miller
is ready to help you find your dream home in Washington. Specializing in the sale of
luxury homes on Whidbey Island and throughout the country
, Tim is a full-time broker and never too busy to help with your real estate needs. Contact him today to get started on your next buying or selling adventure!